Event History
The Annual Orange City Blue Springs Manatee Festival was founded in 1985 with the mission to facilitate improvements and wellness for West Volusia Residents as well as promote environmental awareness in the community to the fullest.  The Organization is a registered non-profit organization.
The Manatee Festival is dependent upon the dozens of volunteers, civic and social organizations and private corporations who choose to donate their time or commit their resources to bring our mission to life!  Some of the most individual ways we put our funds to use include academic scholarships to local high school students to help defray college tuition costs; donations to individuals who are faced with the hardship of poverty or overwhelming medical expenses; providing educational forums about land conservation and "going green" efforts for all ages.  Additionally, proceeds also benefit the Blue Springs State Park "Wish List" area educational scholarships, the Sheriff's "DARE" program, Operation Santa (which provides needed food and Christmas presents to over 80 families), The Police Athletic League, The Jaycees, The Library, The Local Rotary, Police and Fire Departments, Boggy Creek, Make a Wish, and other area programs.
Over the last 28 years, The Manatee Festival has raised over $500,000.  Last year alone over $40,000 was raised to give back to the community. 
Thank You Letters From The American Cancer Society, Halifax Health Hospice, and The Colin M. Anderson Memorial Skatepark
Click To Enlarge
The Orange City Blue Spring Manatee Festival donates $2400 to Manatee Cove Elementary School
Click To Enlarge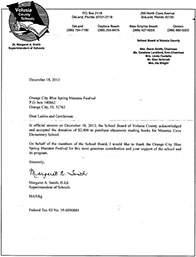 The Orange City Blue Spring Manatee Festival donated $1,000 to SPCA, $500 to Manatee Cove Elementary and $500 to Orange City Hospice.

Click To Enlarge
Past Scholarship Winners
2014 $1000.00 Scholarship winners.

Ryan Joslyn - Currently attending University of Central Florida.
Randy Amil - Will be attending Daytona State College.
Sierra Bowles - Graduating Deland High, will be attending Daytona State College.
Ali Payan - Graduating Deltona High will be attending University of Central Florida.